In addition to the direct power saving from the LED luminaires, less heat would be produced and radiated into the space requiring less air conditioning. After funding, product comparison and competitive bids were considered. Gary Thomas, Videssence National Sales Manager, presented his design concepts and bill of materials for upgrading the lighting. According to James McCully, "Videssence was not only the best value, but a solid technological and aesthetic replacement for our TV studio as well."
The plan was to replace the studios 2000 and 1000 watt Quartz Fresnels with the new 100 and 50 watt LED Vidnel Fresnelsfrom Videssence respectively. These formidable LED Fresnels deliver tungsten performance while utilizing a fraction of the power. The optic design provides the single shadow and focusing characteristics essential to Fresnel fixtures distributing a soft directional beam of adjustable light. In spot focus the 100 watt unit delivers 184 footcandles at a 15′ distance. The beam can be further controlled with optional Barn Doors and Gel Frames. Additionally, the new 100 watt Vidfill Soft Light fixtures were installed, retiring 1000 watt soft lights. This powerful new 100 watt LED Soft Light performs like quartz providing over 54 footcandles at a 12' distance. It delivers a large, smooth wash of soft, even, shadow-less light that can be further controlled with the snoot option. The indirect optical design and internal diffusing lens shields the talent from glaring LEDs resulting in comfortable, cool fill lighting for use in television, studio or motion picture sets.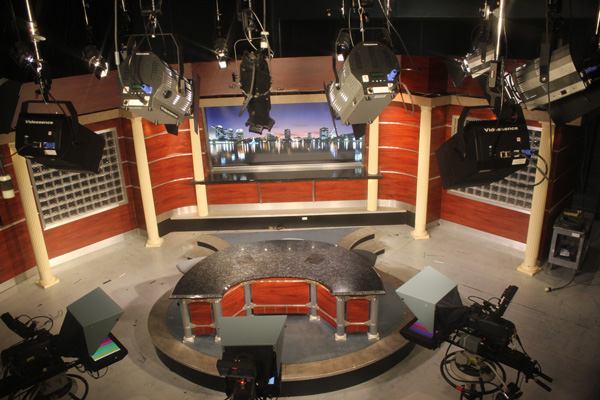 Both the Vidnels and Vidfills are offered in either 3200K or 5600K with a color rating of 96+ CRI and greater than 50,000+ hours rated life. Heat dissipation in the units is designed with a unique passive thermal cooling system to assure maximum LED light output and avoid the noise and failure of internal fans. In addition, to ensure the full life of components, the power is shut off to the driver and LED when dimmed to ZERO with DMX so no external relay or power cut off is required.
Analyzing the difference in lighting quality in the NSC studio after semesters end, the LED units surpassed expectations. They found that a properly lit set with the new LED fixtures provided a crisp and clear view of everything looking through the camera lens. Mr. McCully stated that "Incandescent lighting will drift at lower intensity and the whites do not look as white as they should, with (Videssence) LED the white jumps out as pure white and all the colors look more true. I am very happy with the LED lights"
James McCully has strived for the best studio possible since starting with the Nicholson School of Communication at UCF over 25 years ago. The Videssence fluorescent fixtures that he purchased over 17 years ago are still being used around the studio. In conclusion McCully explained "I use a local dealer, Scott Bickwid Consulting and Supply, to help demonstrate the different products available and we have come back to Videssence time and again for price and durability. Here at UCF Videssence is helping us light the way for all our students and soon to be industry professionals."