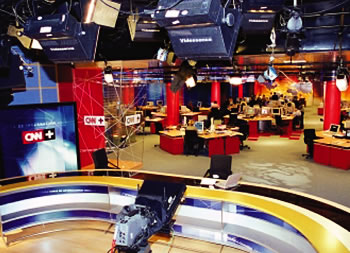 In July, 2002, Videssence provided a lighting system for CNN+ in Madrid, Spain. The system consisted of a range of products first used to light the "new" CNN Studio in London, England in December, 2001.
The V-Beam 252, using 42 watt lamps, was developed especially for CNN and was used to light the main news desk, along with custom made "Eyelites" mounted under the ledge of the circular shaped news desk to provide low angle fill lighting, using 6 watt T-2 lamps.
The Baselite Series B220 fixture was used to light the chromakey wall, offering broad, even lighting.
CNN+ opted to use bright, vivid red and blue colors in the studio and the newsroom background, behind the news desk, creating contrast for a dramatic on air look.