(As seen in the October 17, 2007 issue of TV Technology in the User Report Section)
By: Terry Deming
Production Manager
Meredith Broadcasting
KPTV and KPDX
Beaverton, OR
From our studios located here just outside of Portland, Ore., Meredith Broadcasting operates KPTV (Fox 12) and also KPDX (My Network TV, PDX 49).
We produce a lot of local content around here in our daily operations. There's six hours of morning programming every weekday, in addition to our daily 10:00 p.m. and 11:00 p.m. newscasts.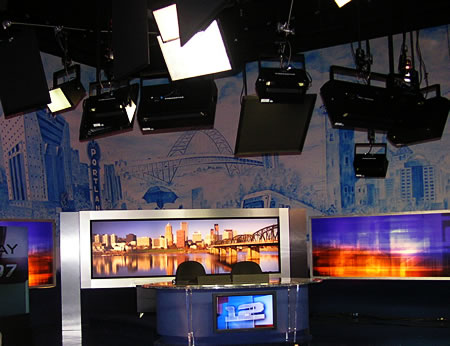 TIME FOR A NEW LOOK
In late 2006, we felt that it was about time to consider revamping the entire look and feel of our news programming. After the initial planning sessions, we began the design work and then construction of a completely new set package for our morning show, news, sports, and weather programs. A large part of the technical planning that went into this venture was the decision to use Videssence lighting for all of our production areas.
Videssence was chosen for all of the reasons we in television production have come to appreciate; it has energy efficiency, low heat generation, long lamp life and overall, is a great performer in a daily news show environment. In the past, we'd tried products from other manufacturers of fluorescent lighting instruments. However, when all our testing was completed, we found Videssence clearly to be the superior choice.
As part of the new set project, we relied on the services of Steve Mulkey from Redwood Media Group to design and integrate a new lighting package for us. We've worked closely with Steve in the past, and together, we were able to put together a Videssence lighting system that met all of our production demands, and came in on budget. The new lighting design utilizes the Videssence PowerKey 220, and V-Beam 168 fixtures.
NEW SETS LOOK GREAT WITH PLASMA DISPLAYS
An interesting side note is that we designed a large number of plasma screens into the new sets. This feature dictated the use of daylight lamps in all the Videssence fixtures and the resulting appearance is really outstanding.
Videssence is a really good and reliable performer. With so many hours of programming every week, ranging from our morning show to the late news, our lighting package should be the least of our worries. The Videssence equipment that we selected has made that goal possible.
Terry Deming is Production Manager for Meredith Broadcasting's Fox 12 Oregon and PDX 49 in Beaverton, Ore. Terry has spent more than 30 years in television production, including stints with ABC affiliate KATU in Portland and KEZI in Eugene, Ore. Terry can be reached via email at terry.deming@kpdx.com. For additional information contact Videssence LLC at 626-579-0943 or visit www.videssence.tv.