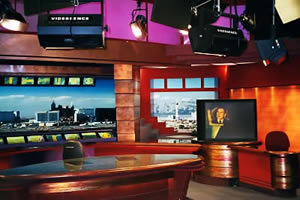 In March 2001, the Videssence revolution came full circle at KLAS - CBS Channel 8 in Las Vegas, Nevada. A team of lighting professionals replaced 10 years of Videssence lighting history and re-illuminated the studio with the latest generation of Videssence instruments featuring state of the art design elements, enhanced photometrics and overall improved performance.
KLAS chose independent lighting consultant Chris Andrus of Andrus & Associates to head the project. Gary Thomas, Senior Lighting Designer, and Lee Hedberg, Director of Engineering, both of Videssence, provided on-site technical assistance.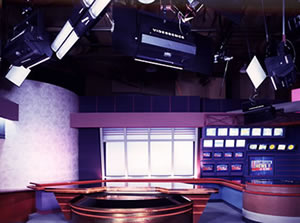 Seven sets were illuminated including: the four person main news desk, four person interview desk, two person interview desk, weather center, chromakey wall, one person on-line desk, and three person interview desk.
A variety of products was selected for the project from the Videssence V-Beam, Baselite and Modular Series, along with an assortment of accessories to complement the performance of each instrument. Tim Foley, Executive Director of KLAS stated that lighting the studio with the latest models of Videssence products exceeded their expectations and easily met their primary goal of looking outstanding on the air. Tim also said that the project accomplished everything he wanted "and the results are superb, fantastic!"